press release

The Slijmfilm universe takes off - Theatrical release for "De Oneindige Slijmfilm" (aka: "The Infinite Slimefilm")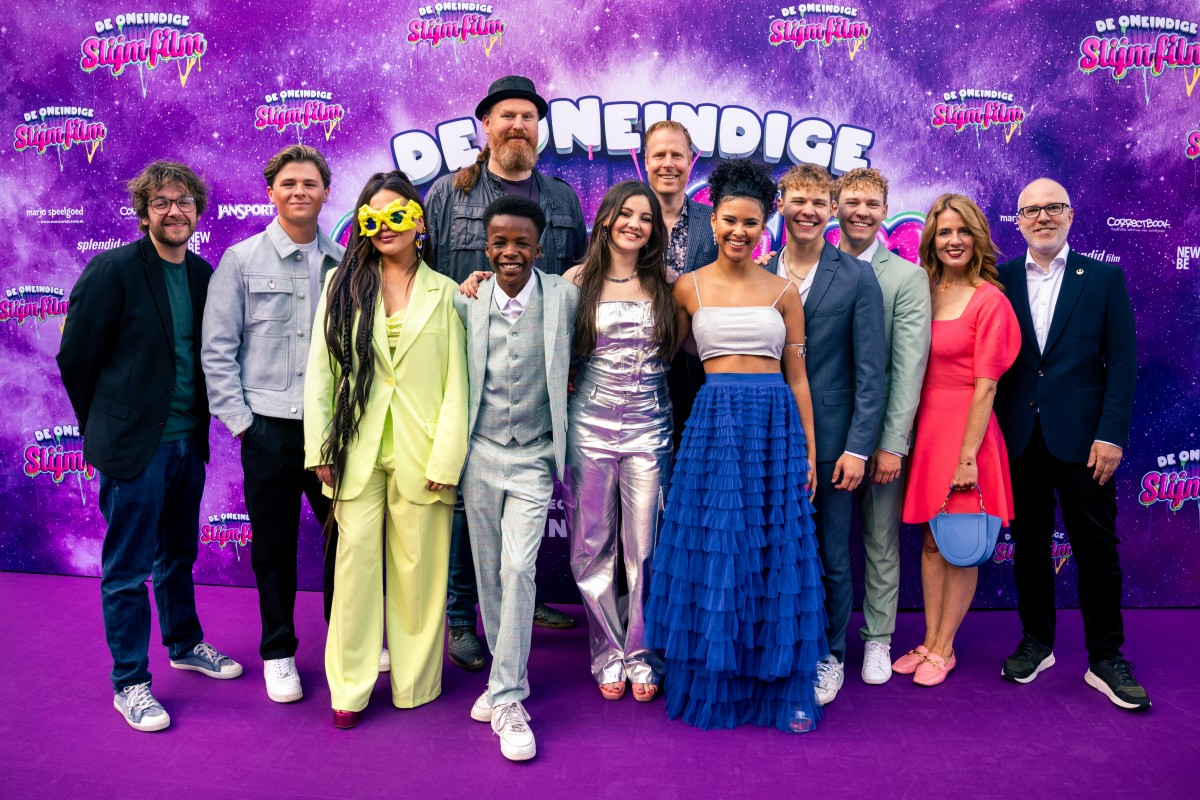 Published Jul 13, 2023
(Cologne/Amsterdam, July 13, 2023) - The successful Slijmfilm series is conquering outer space! After the celebrated premiere in Amsterdam in early July, the fourth Slijmfilm - "De Oneindige Slijmfilm" (aka "The Infinite Slimefilm") - was released in Dutch cinemas last week.
Despite the tropical temperatures, the film had already reached 34k admissions by last weekend. The film thus follows in the footsteps of the first three parts of the "Slijmfilm" series, which, with a total of more than 750,000 viewers in the Netherlands and Belgium, is the most successful Dutch children's movie series in the Netherlands in recent years.
The Dutch YouTube star Bibi, known for many vlogs, DIY and slime videos, once again takes the lead role in the family comedy. Other roles are also played by actors from the previous parts. As in the second and third parts of the franchise, Martijn Smits wrote and directed the film.
About the plot: Indy's (Bibi) slime adventure experiences a new climax: A mysterious slime stone with magical powers emerges from outer space! When this falls into the hands of the villainess Xenia Kobalt, the whole world suddenly quarrels with each other. Together with old and new slime friends and the cheerful alien Klatu, Indy must travel to infinity to stop Xenia. Will she succeed?
The adventure film was again realised with the Dutch production partner NewBe as well as with a funding contribution from the Netherlands Film Fund and the Abraham Tuschinski Fund.
Exclusive footage can be found via the YouTube, Instagram & TikTok channel of "De Oneindige Slijmfilm" and everyone can stay informed about the film.
Splendid Film B.V.,Amsterdam, a company of the Splendid Group, distributes and produces films for Dutch and Belgian cinemas, for international streaming platforms such as Netflix and Prime Video, as well as for local platforms such as Pathé Thuis. In addition, Splendid Film B.V. focuses on the development, production and distribution of Dutch films such as the successful "Misfit" and "Slijmfilm" series, "K3 Love Cruise" and "De Dirigent". In addition to a large selection of local content, Splendid Film B.V. also distributes international Hollywood productions such as the Oscar winner "Moonlight", the horror film sensation "Hereditary" and the war drama "Hacksaw Ridge". Besides the latest "Slijmefilm" release, Splendid Film B.V. is currently also represented in Dutch cinemas with the Finnish Drama "Munch".
Additional images for this press release